How to Hire an Electrician
What Do Electrical Contractors Do?
A lot of people are not sure what to ask when they are looking to hire an electrician. As a trusted electrical contractor, Premium Electric specializes in all work related to the design, installation, and maintenance of electrical systems in residential, industrial, and commercial buildings. We also follow the Technical Safety BC guidelines.
Essentially, we ensure that the light and power in your home are working safely so that your family stays warm, comfortable, and safe.
Whether you are looking for a Chilliwack electrical contractor, someone that does home electrical safety inspections, or 24-hour emergency electrical repairs, we can help when you need to hire an electrician.
As fully licensed electrical contractors based out of Abbotsford BC, we provide all types of electrical services to homeowners and businesses in communities throughout the Fraser Valley and the Vancouver Lower Mainland area, including Abbotsford, Mission, Langley, and Surrey.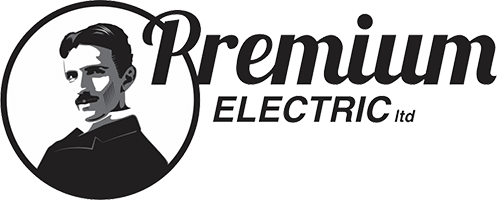 Contact our local electricians Today!
Tips On How to Find an Electrical Contractor
At Premium Electric Ltd we believe that you should be 100% confident in your choice of electrical contractors, as they will be working inside your home and around your family. Whether it's a ceiling fan installation or an electrical panel upgrade, you need to be able to trust them to repair and upgrade critical electrical components of your home properly.
In addition to great customer reviews, here are some tips on what you should look for when you want to hire an electrician.
Ask for a Licensed Electrical Contractor
A licensed electrical contractor has completed proper courses and job site training to do their job properly and safely. At Premium Electric we are fully licensed electrical contractors with no restrictions on the type of electrical work we can do.
Verify That They Are Insured
There are varying levels of insured electrical contractors so it is important to check on any restrictions your contractor may have that could prevent them from doing work in your home. As a registered electrical contractor Premium Electric Ltd. is fully insured and bonded.
Hire An Electrician with Experience
Years of experience often means that the electrical contractors you hire can provide high-quality workmanship and can work efficiently and more accurately than newer, less skilled electricians. This means you get superior service much sooner and at a more affordable price.
Premium Electric's electricians, Tristan McAllan and Mike Speakman have over 30 years of combined experience. At Premium Electric, we are an A-ticketed, unrestricted electrical company, which gives us the ability to provide any form of electrical services to our customers. We work efficiently to install only the best electrical products in your home while providing high-quality workmanship.
Electrical Guarantees
Not only is it important to hire an electrician with experience, but also an electrician who will stand behind all their electrical products and work. At Premium Electric, we not only warranty our work but also guarantee all of the electrical services we perform.
We Also Do Commercial Electrical Services
Along with residential electrical services, our electrical contractors can also provide a wide range of commercial electrical services including:
Strata maintenance
120volt – 600volt and above
Electrical vault cleanings
Tenant and leasehold improvements
24-hour emergency electrical services
Need an Electrical Contractor?
If you need to hire an electrician in Abbotsford, Mission, or Chilliwack, or anywhere else in the Fraser Valley, let us provide you with a detailed electrical quote.
Contact our local Abbotsford electricians online.
Or call our electrical contractors 24/7 at 604-308-6195.
Electrician FAQs
How do I find qualified electrical contractors?
When you hire Premium Electric you are hiring licensed electricians who:
Are fully insured
Can provide electrical quotes in writing
Can provide references
Are highly qualified to perform the necessary electrical work
Are adept at arranging permits
Can provide a certificate of inspection
What is part of your electrical guarantee?
At Premium Electric, we stand behind all the electrical work we do. Our electricians:
Follow BC Electrical Safety Code requirements for all electrical wiring and installations
Only use CSA-approved electrical products
Can provide you with an electrical work inspection report
What is a master electrician?
A master electrician:
Has been tested to ensure they have extensive knowledge and understanding of BC electrical safety codes
A master is the only level qualified to request electrical permits
Other Things to Consider
When you hire an electrician in BC, be sure to research the following:
What Type of Electricians Are They?
Will you be hiring a Master Electrician or an electrical apprentice?
Post Job Support and Warranty
Do they stand behind their work? Do they have your interests and safety in mind?
Are They Accredited and Part of Any Professional Associations?
Master electricians continually update their skills, investing in themselves as well as their community.
Contact Our Abbotsford Electricians
If you would like more information on how to hire an electrician or about our electrical company, please: