Industrial & Commercial Electrical Services Explained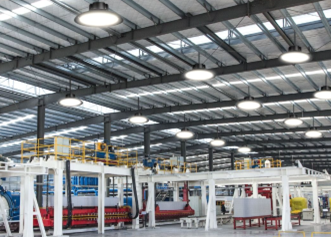 What's the difference between commercial electrical services and residential services? A lot.
Our team of electricians here at Premium Electric is highly experienced in working on both residential and commercial projects.
However, there are huge differences when it comes to the electrical needs of industrial and commercial properties.
Commercial and industrial projects require a significant amount of electrical work by seasoned professionals to ensure everything is completed safely, efficiently, and up to code.
Our commercial electricians have worked on everything from large-scale industrial electrical installations to ongoing repairs and scheduled maintenance work for regular commercial clients.
In this article, we'll outline:
The major aspects of industrial and commercial electrical services
What sort of projects do commercial electricians take on
And why it's essential to hire certified commercial electricians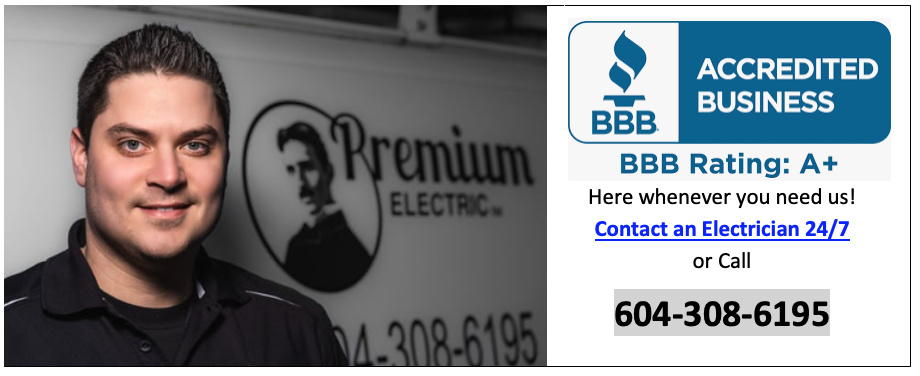 What's Involved in Commercial Electrical Services
The first and most obvious difference between residential and commercial electrical services is the scale of the project.
Larger In Scope
Commercial electrical projects are usually much larger in scope. Smaller commercial buildings can be less than 25,000 square feet in size but it's not unusual for larger commercial properties to exceed 100,000 square feet.
We're talking here about warehousing, manufacturing, and factory complexes found in large industrial parks. But let's not forget other large complexes and commercial high-rises utilized by retail, government, education, and healthcare businesses.
Complex Wiring Systems
Commercial electricians in British Columbia need to have a deep understanding of the BC commercial building code requirements when installing commercial wiring systems, control panels, and electric machinery.
In these types of projects, the electrical wiring systems are much more complex requiring the skills of Certified Journeyman Electricians or Red Seal Master Electricians.
Larger Power Supply
Industrial and commercial electrical services require a much larger electrical power supply utilizing three-phase conductors that can handle up to 480 volts of power. It also means that cable systems must be commercial grade to be able to handle the power load.
Working Alongside Other Contractors
In most cases, commercial electricians need to work alongside other contractors on large projects like commercial buildings, public buildings, and factory complexes. The on-site commercial electrician will also be responsible for handling electrical permits, which are required for large-scale projects.
Regular Electrical Maintenance Required
Commercial electrical systems require a lot more maintenance because of how frequently and intensely they are used. For this reason, electrical access panels need to be installed in accessible locations for easier troubleshooting. After all the groundwork is completed, a commercial electrician's job is largely regular maintenance, servicing, and repairs.
Why Hire a Commercial Electrician?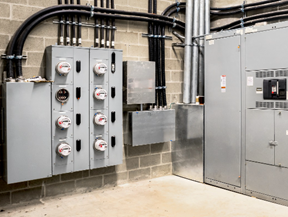 Your commercial project deserves a seasoned professional with the tools and the know-how.
The safety and function of your business are not the places to cut corners, which is why you should only entrust commercial electrical work to a licensed commercial electrician.
Our electricians are professionally trained and experienced in handling large commercial projects.
When safety and efficiency are top of mind, you can count on Premium Electric to get the job done right.
We know the code book inside and out, so you can rest easy that your business will come out on top during electrical safety inspections.
Finally, a commercial electrician can provide you with valuable insight when it comes to electrical planning and upgrades. Our expertise can help you save time and money while ensuring your project is done right the first time.
What Commercial Electrical Services Do We Offer?
Below we will go into a few of the major electrical services that we offer industrial and commercial clients.
If you don't see what you're looking for, contact us with the details of your project, and we will let you know if it's within the scope of our work!
Commercial Electrical Design & Installation
Every commercial electrical design and installation process begins with a thorough assessment of the building and your business's needs. Every project is unique, and you will need the help of an experienced and qualified professional to know what to do.
Commercial electrical design and installation is a complicated process.
The electrical system needs to be curated:
To the size of the building
The type of electrical equipment being used
The number of employees
And the expected electrical load
Not to mention that all electrical installations must abide by strict electrical codes.
Commercial electricians work alongside architects, engineers, and contractors to tailor plans to fit the project's electricity needs. Only once the plans are drawn up, approved, and finalized can our electricians work on installing the wiring, outlets, lighting, distribution systems, and electrical panels required.
All electrical work must comply with rigorous safety codes and regulations to ensure the optimal function and safety of the electrical system. The safety of your employees and your business is in our hands, and we take the responsibility seriously.
Commercial Electrical Repairs
As previously mentioned, commercial electrical systems tend to break down more frequently than residential ones. This is not because they're worse but has more to do with the frequency and intensity of use.
A warehouse that uses power tools and complicated machinery 40+ hours a week year-round will strain an electrical system. For this reason, electrical repairs are often necessary.
Commercial buildings are made up of a lot of moving parts. The electrical systems can be responsible for everything from lighting and security to HVAC and data networks. If something goes wrong with any of these systems, it can cause major disruptions in your business and your bottom line.
Having a reliable commercial electrician on hand is crucial for workplace safety and can save you a lot of money in the long run.
Ongoing repairs and maintenance may be necessary for all parts of the electrical system in a commercial building.
Common electrical problems may include:
Faulty wiring from outdated installations
Circuit breakers that trip frequently
Power supply issues (often a result of new equipment installations)
Power outages
And much more
A commercial electrician can also diagnose and repair electrical faults, replace faulty components, and conduct routine maintenance to ensure the system remains safe and functional year after year.
Our electricians are trained to handle the unique challenges of commercial building work. They understand the importance of getting the job done quickly and efficiently while meeting all code requirements.
If and when your business requires a commercial electrician, give us a call at 604-308-6195 or send us an email.
Commercial Electrical Maintenance Services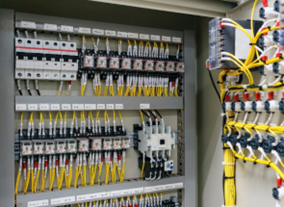 In most cases, most businesses might not experience any symptoms of an electrical issue until the problem becomes worse. Don't let the calm before the storm fool you. It will always rain eventually.
Time is money, so it's essential to conduct routine electrical maintenance work to keep your industrial or commercial business running smoothly with as few interruptions as possible.
We recommend routine electrical inspections to ensure your building is running safely and efficiently.
Regular electrical maintenance work may include inspection and testing of all major components including:
Electrical wiring
Circuit breakers
Electrical panels
Insulation resistance tests
Plus replacing faulty parts before they cause bigger issues
Regular electrical maintenance prevents small nuisances from becoming bigger (and more expensive) problems down the road. Not only does regularly scheduled maintenance save you money, but it can prevent catastrophic breakdowns or safety hazards from occurring in the future.
Security System Installation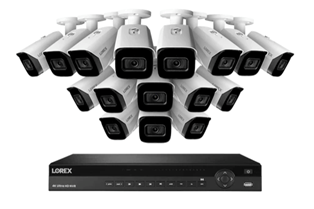 Your business, your equipment, and your employees are important assets. Investing in security services only makes sense.
It's common and often expected for commercial locations to invest in security solutions. A good security system can help deter crime, protect business assets, and provide peace of mind.
A well-designed security system will be tailored to your needs, regardless of your business size. Commercial security systems typically include a certain amount of electrical hardware, such as:
Surveillance cameras
Alarm systems
And access control systems
Surveillance Cameras – These are probably the first things that come to mind when you think of commercial security systems – and cameras are key components! Cameras can provide both live and recorded footage of activity in and around the premises.
Alarms – Alarms are another key element as they deter intruders and vandalism. Sophisticated alarms can also access control systems that restrict access to certain building areas.
While a security system is a major investment, its benefits outweigh the costs. You've spent a lot of money on your assets. Protect them and your employees so your business can continue to grow and thrive.
Our commercial electricians can help you create the security system that best meets your needs. Our installation service includes cameras, access control and alarm systems, plus additional required hardware if applicable.
Data and Communications Electrical Services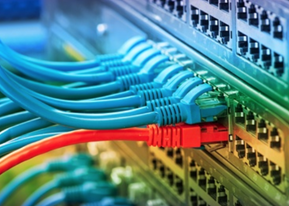 Data and communication systems are crucial revenue highways for your business. After all, the transport and maintenance of one of the most valuable assets: information!
There are many data and communication service options depending on the size of your business.
Our commercial electricians can assist with data and communication infrastructure design, installation, and maintenance through:
Phone lines
Internet connections
Networking
And voice and data services
Our professionals will ensure you have the infrastructure to support your information needs. Rest easy that you have the technology you need to support your customers and advance your business goals.
Lighting Design & Installations
Let there be light! Right?
As anyone who's ever worked in an outdated office under bleak fluorescent tube lighting knows that good lighting is important for the comfort and productivity of a business!
A commercial building is large and complex. It needs to be well-lit, and with one large building serving so many different functions, it's important to consider how a space is used when creating a lighting plan.
What is the function of each space?
What type of activities will take place in each space?
What is the desired atmosphere?
All these factors will impact the type of lighting chosen, such as overhead, task, accent, and emergency lighting for safety purposes. Our experienced commercial electricians will work alongside a building's architects and engineers to design and install a lighting system to meet the specific lighting needs of a project.
Our commercial electricians can also install specialized lighting control systems to allow businesses to automatically control the lighting in their buildings. This includes:
Lighting timers
Occupancy sensors
And daylight sensors to optimize energy usage and reduce costs
Commercial Electrical Upgrades
Electrical needs may change as your business continues to grow and evolve. A growing business is great, but to keep things safe and efficient, it's important to upgrade and maintain those electrical systems regularly.
Upgrading your commercial electrical system is a big job. We get it. But it's necessary to keep your business running smoothly.
Take the time and get your commercial building inspected by a licensed electrician. It's the only way to ensure that your building is safe, functional, and keeping up with the growing demand of your business.
Our commercial electricians can help assess the needs of your growing business and recommend what you need to update. Here are a few things to keep in mind when considering an electrical upgrade.
Is your electrical system outfitted to handle the increased load that comes with growth?
What type of business do you run, and what electrical needs do you have or need?
Does your electrical system still meet all safety codes and regulations?
Our electrical contractors can help you with any type of electrical upgrade your company might need including:
Upgrading older electrical components can help your business reduce energy consumption, lower maintenance costs, and improve the safety and functionality of your electrical systems.
Energy Audits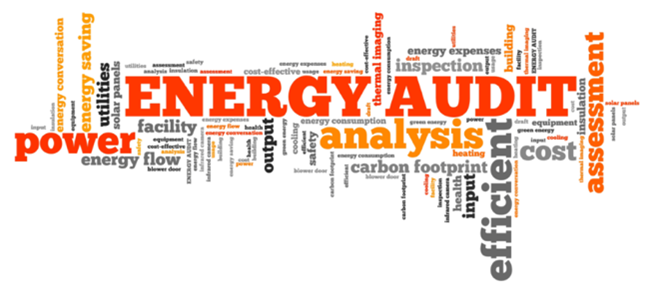 Going green doesn't just sound good – it's cost-effective too!
Commercial buildings account for a big chunk of energy usage nationwide, so small changes can really add up. If your commercial location is based out of an older building, it's likely that you're losing a lot of energy on account of outdated systems. That's why it's important to conduct energy audits to see what's costing you the most money.
What is an Energy Audit?
An energy audit conducted by a professional commercial electrician assesses the amount of energy a building uses and how to reduce consumption. These are just a few of the benefits of running an energy audit:
Save your business money on energy bills by reducing needless energy waste.
Reduce your business's environmental impact.
Improve your business operations and increase competitiveness.
Our commercial electricians can help reduce your business's energy consumption and help save you money. By implementing the recommended changes identified in an energy audit, you can improve efficiency, lower your carbon footprint, and improve the comfort and safety of your commercial building.
Thermal Imaging Electrical Inspections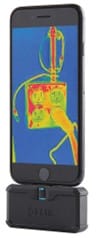 Are you on board with the idea of an energy audit but unsure what it would entail? Well, part of conducting an energy audit involves Thermal Imaging Electrical Inspections.
Thermography or thermal imaging uses infrared radiation to capture images of temperature differences in a building's surfaces.
Commercial electricians use these specialized tools to detect areas of heat loss in a building to help improve energy efficiency and identify potential problems before they cause damage.
n some cases, thermal imaging inspections can also be used to detect hidden moisture or leaks. This is especially helpful when surveying hard-to-reach places, such as behind walls or within ceilings. By detecting potential problems early, a thermal imaging inspection can help avoid costly repairs later.
While thermal imaging electrical inspections are a valuable tool for maintaining commercial buildings, they are best used in conjunction with a complete physical inspection of all components in an electrical system.
Our commercial electricians use thermal imaging alongside other tools as a part of a complete hands-on inspection.
Thermal imaging may sound easy enough, but it doesn't tell the whole story, which is why inspections should only be conducted by trained professionals who have experience using thermal imaging cameras and analyzing the resulting images.
If you don't know what type of commercial electrical services you need, we can also help you with that. Our friendly team of professionals is always here to help.
Summary
The scope and complexity of industrial and commercial electrical systems require the skills of certified commercial electricians.
From electrical systems design and installation to repairs, troubleshooting, electrical upgrades, and regular maintenance, Premium Electric can help keep your business running smoothly.
Additional commercial electrical services that we offer include lighting design and installation, security system installations, data and communications services, energy audits, and thermal imaging electrical inspections.
In essence, we are here whenever you need help with any type of industrial or commercial electrical issues.
Over the past two decades, we have worked with commercial businesses of all shapes and sizes!
Set yourself up for success with an electrician that has your back. We'll help keep your business running at its best so you can focus on what you do best.
Contact Premium Electric Ltd.
Serving communities throughout the Fraser Valley and the Greater Vancouver Regional District, no industrial or commercial electrical project is too small or too big for Premium Electric.
Your industrial or commercial project will be completed by fully bonded and certified commercial electricians.
We offer expert electrical services to clients throughout the Fraser Valley and Vancouver Lower Mainland from Chilliwack and Abbotsford to Surrey and Burnaby.
Our fully bonded and certified commercial electricians are here to help 24/7.
Please call 604-308-6195 to speak with Mike or Tristan and we'll be glad to answer any of your questions about our industrial and commercial electrical services.
We can be reached by email or you can contact us online.