LED vs Incandescent Lights – Myths & Truths
Ever since LED lights were first developed in the 1960s, there have been numerous myths about LED vs incandescent lights; myths about the effectiveness of LED lights, cost of ownership, reliability, and longevity.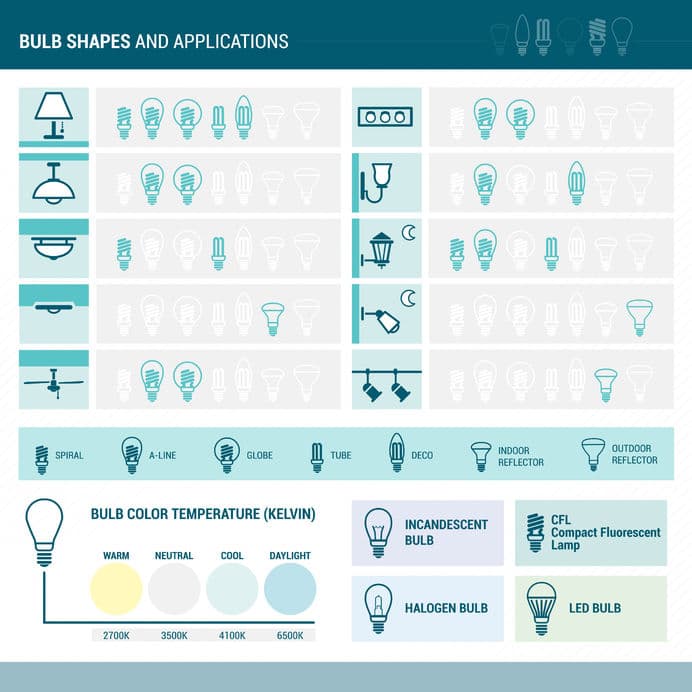 In this article, our Abbotsford electricians at Premium Electric hope to debunk the LED myths and present the LED lighting facts. We hope this information about LED vs. incandescent lights will help you make an informed decision about purchasing LED lights. LED is a very innovate form of lighting and a great alternative since Canada is Phasing Out Incandescent Light Bulbs.
LED Lights Only Come in Blue
Myth: LED lights only come in blue and do not emit any other shades of colour.
Truth: LED lights are now available in a range of shades from warm yellow to cool blue.
LED Lights are Expensive
Myth: LED Lights are too expensive, and you'll never recover the cost of your investment if you purchase them.
Truth: While LED lights are initially more expensive, in truth, when you look at LED vs incandescent lights, LED lighting consumes 75% less electricity and lasts 15-20 times longer than traditional bulb lighting. This means that the cost of operating LED lighting also decreases year over year.
LED Lights Last Indefinitely
Myth: LED lights last forever, and you never have to replace them.
Truth: No light bulb will last forever. LED lights last considerably longer than conventional bulb lighting. LED lights also retain brightness for most of their lifespan.
LED Lights are Not Bright Enough
Myth: LED lights are not as bright as incandescent bulbs.
Truth: The amount of light emitted in LED vs incandescent lights is the same. LED Lights should be purchased based on lumens, not wattage. Wikipedia defines lumens as "a measure of the total quantity of visible light emitted by a source." The lumen output of LED lights is equal to incandescent light bulbs.
LED Lights Do Not Heat Up
Myth: LED lights never create any heat.
Truth: LED lights do emit heat but they create a lot less heat than incandescent bulbs. Incandescent lighting wastes 90% of the energy they consume as heat.
LED Lights Are Harmful to Your Eyes
Myth: LED lights can hurt your eyes.
Truth: LED lights are not like lasers that focus light on a single point. The intensity of LED vs incandescent lights is comparable, including halogen and traditional light bulbs.
LED Lights Contain Dangerous Components
Myth: If you break a LED light you will expose yourself to harmful substances.
Truth: LED lights are recyclable and do NOT contain substances such as lead, mercury or other harmful toxins.
LED Lights Can't Be Used With Dimmers
Myth: LED lights can't be controlled or dimmed to create soft lighting situations.
Truth: Some LED lights have been designed to dim. Look for dimming information on LED light packaging.
LED Lights Won't Work in Extreme Cold
Myth: LED lights can't be used in situations of extreme cold.
Truth: LED lights actually function more efficiently, and their longevity is increased when used in cold temperatures.
LED Lights Cannot Withstand Vibration
Myth: LED lights cannot be used in applications where vibration or shaking occurs.
Truth: Because there are no filaments or delicate glass in LED lights, they are significantly stronger and more resistant to vibration than conventional light bulbs.
About Premium Electric
Premium Electric is based in Abbotsford BC and services clients throughout the Vancouver Mainland including Burnaby and the Fraser Valley communities of Abbotsford, Mission, Aldergrove, Maple Ridge, and Chilliwack. Visit our FAQ page to learn more.
We offer a full range of commercial and residential electrical services including lighting upgrades. We also hire and train only fully licensed and insured electrical technicians to ensure you receive the best workmanship, warranties, and guarantees in the business.
If you still have questions about LED vs incandescent lights, we can be reached at 604-308-6195 or by email.