Why Is My Electrical Outlet Not Working?
If you have an electrical outlet not working would you know what to do? What if it is a GFCI outlet that keeps tripping and won't reset?
Whether your electrical outlet is located outside, or inside in the kitchen or bathroom, there can be many reasons why your electrical outlet is not working. In some cases, the electrical outlet may not be working even if your breaker is not tripped.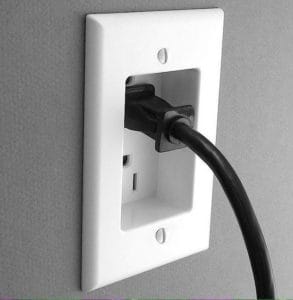 Whatever the case, if you have an electrical outlet not working or you smell burning wires, be sure to remove the electrical cords from the outlet.
Carefully hold your hand over the outlet faceplate without touching it. If the outlet feels warm or appears to be hot, stop using it immediately. It's best to call an electrician if you are experiencing difficulty using an electrical outlet at any time. See also our Home Electrical Safety Tips page.
5 Reasons Why An Electrical Outlet May Not Be Working?
If you have an electrical outlet not working, here are five of the most common reasons to watch out for:
Electrical Load Is Too High – A load of electricity on the circuit containing the outlet may be too high. Often, simply moving some electrical appliances or devices to another outlet, preferably one that uses a different circuit breaker, will address this problem.
Electrical Wires Have Overheated – Contact our Abbotsford electricians at 604-308-6195 if an outlet smells like burnt wiring and stop using it immediately. The wires attached to the outlet have probably overheated and maybe melting. You may also need to look at replacing a circuit breaker.
Electrical Wires Are Loose – If an outlet occasionally sparks or if the receptacle moves around when you try plugging in a device, the wiring is probably loose or has shorted out. Contact an electrician to investigate it further.
Electrical Wires Are Not Up to Code – If your electrical cords heat up when they are plugged in, then the electrical wiring is not up to code. Also, there may be a short in the wiring or perhaps there are too many outlets assigned to one breaker. This should be addressed immediately. Have a qualified electrician determine whether you require electrical code upgrades.
Electrical Outlets Are Worn Out – On older homes, electrical outlets may simply be worn out. Sometimes the outlet will no longer hold an electrical cord securely when it is plugged in. Have a qualified electrician examine your outlets and recommend the best course of action. If you have children, you might want to also consider installing child proof outlets in your home.
You can find additional information on this Bob Villa page.
If any of these conditions are apparent with your electrical wiring, we recommend that you have a certified electrician do a thorough examination of your home wiring, including an electrical safety inspection. If you have an older home, it may also be time to consider an electrical panel upgrade.
Premium Electric services clients throughout the Fraser Valley including Mission, Chilliwack, and Abbotsford BC.
They can be reached by email or by calling 604-308-6195.