Downed Power Line On A Car – 10 Critical Steps to Take
If you have a downed power line on a car you must assume that the power line is live. Also, do you know what you should do if you encounter a BC Hydro downed power line while driving?
In this post, our Abbotsford electricians offer safety tips to help keep you and those you love away from harm when you have a downed power line on a car.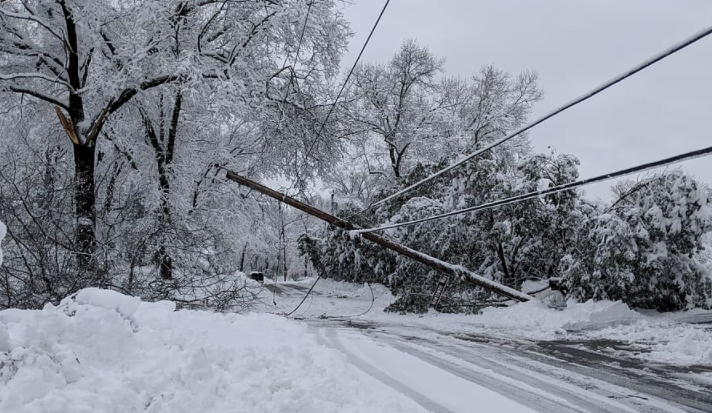 Dangers of Downed Power Lines
Report a downed power line immediately because live electrical wires are extremely dangerous.
That's because a voltage gradient is created on the surface of the ground. This gradient (or field of electricity) develops between the point of contact where the power line and the ground meet. It continues for some distance until the voltage dissipates to nothing. The effect is similar to ripples in a pond (created when a stone is thrown in).
If you have a downed power line on a car and it becomes "grounded," your vehicle will become live as well. Your vehicle will have the same amount of voltage as the electricity that tries to pass through your car and into the ground. As a result, the electrical field can be quite dangerous.
If your car comes into contact with electrical wires, remain calm and do not exit the vehicle. Can you drive over a downed power line? No, it is not recommended, however, if possible, slowly drive away from (and break contact with) the downed electrical wires.
Downed Power Line on Car – Safety Tips
If driving away isn't possible, here are 10 critical steps you need to take to keep yourself safe when a downed power line is on a car:
Treat all power lines as if they were live…even if you suspect they are not live. Remain in your car until help arrives and the electrical crew can safely remove the power lines from your car.
If you see others approaching, and if possible, warn them to stay back at least 10 meters (30 – 35 feet).
If you have a mobile phone, call 911 and/or text "Hydro" (49376) and give BC Hydro your location.
Emergency evacuation (due to a fire or other circumstance) should only be attempted as a last resort.
If you must escape, you cannot have contact with the car and the ground at the same time.
If escape is necessary, you must JUMP with feet tightly together (do not walk away from the car) and quickly jump as many times as necessary to move safely away from the vehicle.
Tires can explode so stay away from tires as you jump away.
Once you are safely away, do not go back to the vehicle for any reason.
If you come across others trapped in their car by downed power lines do NOT attempt to rescue them. If possible, keep your distance and share this knowledge in an effort to keep them from harm. A downed power line safe distance is about 10 meters (33 feet). See this downed power line safety video by BC Hydro.
Remember, if you try to walk or run away from your vehicle due to downed power lines, your feet and legs can act as a span between areas of differing voltages. This can form a circuit through your body and could result in severe electrical shock or death.
See our post on Downed Power Line Safety Tips.
Also, exploding tires can be a hazard within the first 24 hours following contact with power lines so be sure to have your vehicle inspected before use.
For more detailed information, see this BC Hydro page entitled Motor Vehicle Accidents Involving Power Lines.
See our BC Safety Authority post to learn more about this not-for-profit organization.
About Premium Electric
To learn more about electrical safety and how to deal with downed power lines on a car, or if you have an electrical problem, please contact our Abbotsford electricians. We recommend that you always hire a qualified electrical contractor.
Call us at 1-604-308-6195 or send us an email. We offer a full range of electrical services for both commercial and residential customers.
Premium Electric services local communities throughout the Fraser Valley. Contact us if you need a licensed electrician in Mission, Abbotsford, and Chilliwack or in Langley, Surrey, Poco/ Coquitlam, or Burnaby. 
You might also like our post on Home Electrical Safety Tips.